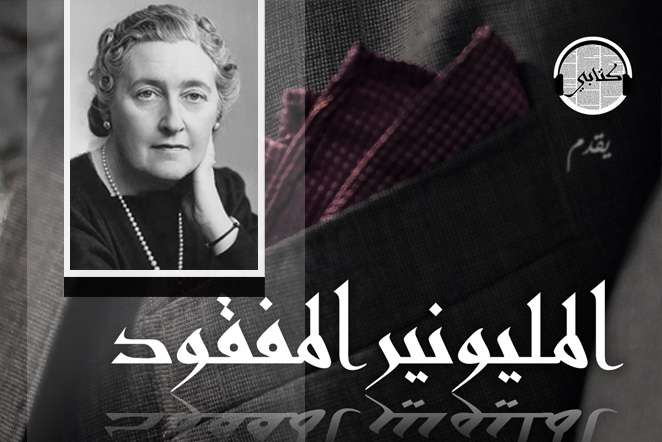 Christie's detective short stories are coming to you, for the first time in Arabic, as a live audio-drama serial
THE ARABIC VOICE™, Content Development Bureau
In the context of bringing out a rich precious heritage of literature masterpieces, Ketaabi project is coming up with an audio-drama serial of Agatha Christie's detective stories, starting with "The Lost Millionnaire" story with Christie's legendary star: Detective Poirot, narrated and performed by Ahmed AlQotb, sound-designed and engineered by Mohammad Abdel Ghaffar.
THE ARABIC VOICE studios aim to introduce about 5-6 stories through this serial, probably the first of its kind to be produced in standard Arabic, and offer it for free via Ketaabi's Youtube.
Agatha Christie, or Dame Agatha Mary Clarissa Christie, Lady Mallowan, DBE (née Miller; 15 September 1890 – 12 January 1976) was an English writer known for her 66 detective novels and 14 short story collections, particularly those revolving around fictional detectives Hercule Poirot and Miss Marple. She also wrote the world's longest-running play The Mousetrap and six romances under the pseudonym Mary Westmacott. In 1971, she was appointed a Dame Commander of the Order of the British Empire (DBE) for her contribution to literature.
Christie was born into a wealthy upper-middle-class family in Torquay, Devon. She served in a Devon hospital during the First World War, tending to troops coming back from the trenches. She was initially an unsuccessful writer with six consecutive rejections, but this changed when The Mysterious Affair at Styles was published in 1920 featuring Hercule Poirot. During the Second World War, she worked as a pharmacy assistant at University College Hospital, London, acquiring a good knowledge of poisons which feature in many of her novels.
Guinness World Records lists Christie as the best-selling novelist of all time. Her novels have sold roughly 2 billion copies, and her estate claims that her works come third in the rankings of the world's most-widely published books, behind only Shakespeare's works and the Bible. According to Index Translationum, she remains the most-translated individual author, having been translated into at least 103 languages. And Then There Were None is Christie's best-selling novel, with 100 million sales to date, making it the world's best-selling mystery ever and one of the best-selling books of all time. Christie's stage play The Mousetrap holds the world record for longest initial run. It opened at the Ambassadors Theatre in the West End on 25 November 1952, and as of April 2019 was still running after more than 27,000 performances.
In 1955, Christie was the first recipient of the Mystery Writers of America's Grand Master Award. Later the year, Witness for the Prosecution received an Edgar Award from the MWA for best play. In 2013, The Murder of Roger Ackroyd was voted the best crime novel ever by 600 writers of the Crime Writers' Association. On 15 September 2015, coinciding with her 125th birthday, And Then There Were None was named the "World's Favourite Christie" in a vote sponsored by the author's estate. Most of her books and short stories have been adapted for television, radio, video games, and comics, and more than 30 feature films have been based on her work.
---
References