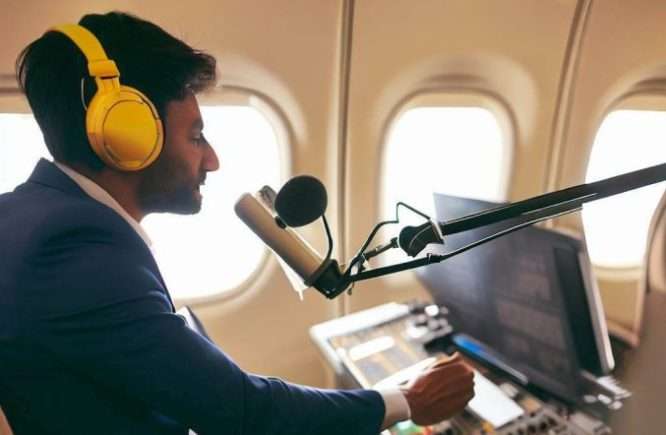 I had that old dream, since I was a teenager, to become a commercial pilot. Yesterday we have been auditioning for the fourth airliner on the way to record in-flight safety announcements and on-board audible instructions in Arabic. When I say in Arabic, I mean in standard/classical Arabic language which is being used as the official language throughout more than 20 countries spreading over north African and Middle Eastern plateau.
Back in 2017 when I was on my first flight to US to attend VO Atlanta for the first time ever, while listening to the in-flight instructions in English on-board of my TK flight from Cairo, I told myself: "hmmm.. we should be doing this in Arabic someday.." a bit later, and since 2020 we have produced such kind of voiceover performance for 2 airliners: Turkish Airlines, Neos Airlines and a private jet manufacturer: Gulfstream. Just yesterday, I have been audition for Air Arabia.
Through this untraditional experience of voiceover acting we have been in charge of some different kind of interactive voiceover with a new persona and within a completely unprecedented archetype (for a voiceover artist). The text material seems like a narrative e-learning script at the first look, however the context and atmosphere of the passenger cabin announcements makes this something else, a voiceover actor in this case, is performing a new character acting as one of the cabin crew, a flight attendant in some segments, and as the pilot or a co-pilot in some other contexts.
There are also some few circumstances that we don't often encounter as flight passengers, those are the various forms of emergency situations like air turbulence, storms, forced landings or even terrorist threats on the flight. When a voiceover artist comes through such scenarios while recording, he must be psychologically and cognitively ready to be talking to his passengers as a very well prepared and trained flight attendant, who know what should be done in such situations, and yet is addressing his cabin passengers in a definitive alerting attitude.
The transition from the welcoming words of: "Welcome to Istanbul, the meeting point of the whole world", to "ATTENTION! there has been a sever pressure drop in the cabin… " is the key factor that makes the difference between a voice actor and a narrator.
Last year when I was on-board of Turkish Airlines through my flight back from Los Angeles to Egypt, a smile laid on my face when I heard my own voice giving safety instructions to cabin passengers, remembering the thoughts I had on my first flight on this Airliner..